This is a non-commercial site, I do not sell anything.
Most of the

links go to sellers of the item in question. For the few products where Amazon.com is the best source, I have included my affiliate ID in the

link and would appreciate your support by the use of these links.
---
Join the Coffee Party Movement and Tell the Commie Tea-Baggers Where to Go!

---
Coffee Picture of the Month
---
New Equipment
---
New Books, Photograph, & Coffee Roasting Company
---
Coffee—The World's Most Perfect Beverage
Recent Health News
Coffee Drinkers Have Lower Type 2 Diabetes Risk
Dutch National Institute for Public Health and Environment Releases Study and Report of Study in Annals of Internal Medicine Confirms Results
Coffee Lowers Risk of Liver Cancer
Japanese Scientists Credit Antioxidants
---
Table of Contents
(Click on Topic to Jump Directly to It)
---
Introduction
I created this web site to share the joys of bicycling and drinking good coffee, at the same time.
I also wanted to dispel some of the misconceptions about coffee being a harmful beverage or a cause of dehydration, and to provide a well-referenced compendium of coffee's health benefits.
I don't get any compensation for this site. All I've ever received is a load of equipment to evaluate, and a few bucks in referral fees from Amazon. If you shop at Amazon then please enter their site using my affiliate code, click Amazon. If you're a Mac user, please visit http://www.bigelowtea.com/shop/shop.cfm?si=1&sc=5.
---
History
I'd been into bicycle touring since moving to California in 1979. Until someone showed up for one of my tours in 1982 with a Melitta cone filter bungee-corded to her panniers I didn't realize how important coffee was to some cyclists (probably because I had rarely drunk good coffee). It wasn't until 1985, when a girlfriend in Palo Alto started feeding me freshly ground Peet's coffee, that I was hooked. When I got married, I ended up with a long commute, and I often rode my bicycle down to the Cal Train station and took it on the train. I found a need for a good way to transport coffee by bicycle.
---
Coffee, Sex, Health, & Religion
This section examines the following topics:
Coffee and Dehydration—Urban Myth, perpetuated by persons that want to appear intelligent by using the word 'diuretic'

Health Benefits of Coffee—Coffee helps prevent or treat a variety of ailments, including Alzheimer's, Angina, Anxiety, Apnea, Asthma, Cancer (bladder, colon, skin), Dental Caries (Cavities), Depression, Dermatitis, Diabetes, Gallstones, Impotence, Headache Kidney Stones, Obesity, Parkinson's, Postprandial hypo tension, and Radiation Poisoning.

Coffee, Sex, & Religion

Problems with Coffee—There is no evidence that coffee has any effect on miscarriage rates. It may be a trigger of migraine headaches, and it may cause cardiac arrhythmias in persons with a history of this problem.
This section became very large, and while it is valuable, it was interfering with the primary mission of this site. It has been moved to a separate page.
Click For Coffee, Sex, Health, & Religion
---
"If you find something you really, really like, buy a lifetime supply; because it'll either be changed for the worse or go out of production."
This quote from Rivendell Bicycles is painfully true as it relates to the dismal state of the U.S. bicycle industry. Be very careful when buying a new bicycle. Ensure that the water bottle cage will have sufficient clearance for the coffee bottle (or water bottle) you plan to use, especially if you want to use one of the larger bottles such as the JSB-700 (but there are large water bottles as well that need to be considered).
The Curse of Compact Frames
The bicycle manufacturers have come up with yet another way to cut production costs. As if threadless headsets and soda can aluminum frames were not bad enough, now the latest trend is "compact frames." The top tube on a compact frame is slanted down. This will usually eliminate the ability to use a bottle cage on the seat tube, limiting you to a single set of bottle cage mounts located on the down tube. Even this set of mounts may be unusable due the very limited space between the down tube and the top tube. Look at the women's Specialized Expedition shown below, but understand that this phenomena is not limited to so-called "women's" frames. You get a single set of cage mounts on the down tube, but they are virtually unusable. The cage shown below was designed as a work-around to this issue, and may help slightly, but it's still a bad situation. Most road bikes from Trek and Specialized now use compact frames.
What to Buy?
If at all possible, buy non-compact frame, "men's frame" bicycles, made out of chromolloy steel, with a threaded headset. Ensure that there is at least one set of bottle cage mounts that are usable even with tall bottles. It is preferable to have at least two sets of bottle mounts, not just for coffee or water, but for the plethora of accessories that require a bottle cage. These bicycles are still available, but they've gone from being the mass market bikes to being a specialty item for discerning buyers, with prices that match.
Again, when buying a bicycle look for:
A threaded headset. A threadless headset is not height-adjustable except by using funky extender clamps that look terrible and add weight. There are still some bicycles available with threaded headsets. The manufacturers like threadless headsets as they can make fewer sizes of forks.

A chromolloy steel frame. An aluminum frame is not as strong and will not last as long as a chromolloy steel frame. Unfortunately you're pretty much stuck with aluminum on the lower cost bicycles. The manufacturers like aluminum because you can make a lightweight bicycle much more cheaply with aluminum than with steel. A lugged steel frame is best.

A classic geometry frame. A compact frame is less stiff, less comfortable, and has less space for bottles. The manufacturers like compact frames because they are smaller and use less metal, so they are cheaper to build, and smaller and lighter to ship. Also they can have fewer sizes and compensate with longer seat posts and steering extenders.
You can always buy a well cared for used bike in order to get a quality bicycle at a reasonable price.
Accessories that Use Bottle Cages or Bottle Cage Mounts
A lot of accessories need a bottle cage, or bottle cage mounts, so it is a good idea to buy a bicycle that has at least two sets of mounts, or add additional mounts by the use of various cage mounting accessories. The Topeak Modula EX cage is the best option for many of the items below, especially the ones that aren't shaped exactly like a bicycle water bottle.. You can add bottle cages behind the seat, on the handlebars, or to the frame. The Topeak X-15 Adapter helps utilize tight spaces on the frame. Don't fill your bottle cages with all this other junk and forget to carry some water or other hydration!
Click Picture to Go to a Web Site that Sells or Describes Each of These Items
---
Adding Additional Cages to Bicycles that Lack Bottle Cage Mounts
There are ways to add additional cages to your bicycle, even if the bicycle lacks the bottle cage mounts. See http://nordicgroup.us/cageboss for details.
---
Coffee and Bicycling


There are many bike-compatible methods to keep coffee steaming hot or icy cold. I used to lead two well-attended rides for local bicycle clubs (Western Wheelers, Almaden Cycle Touring Club, and Sierra Club). The Tour 'de Caffeine and the All Night Bike Ride both combined coffee and bicycling and hence I gained some expertise in this rather obscure area. I recently started commuting by bicycle occasionally, and re-discovered how important it is to be properly caffeineated at all times. While there are probably twenty coffee houses on the route of my nine mile commute, both time and money preclude stopping. If you're a Macintosh user you can use these methods for carrying herbal tea instead of coffee, but you'll forego all the health benefits.
I've included links throughout the site that enable you to surf to manufacturers' web sites for technical information, as well as retailers' web sites to quickly purchase these items. I don't receive anything from any of these manufacturers or retailers (though if they want to send me a complimentary product it would help their ratings—just kidding).
---
Bottles & Cups


The ideal bottle will fit securely into a standard water bottle holder, allow drinking without stopping, have a cover for the nipple, and keep the coffee hot for sufficient duration. The best container for this is the Jung-Won JSB-500, and JSB-700. The flip-top lid on the JSB-500/700 keeps the nipple clean and also covers a small valve that allows air into the bottle while drinking (the lid is fragile, and will break if it hits the pavement or tile floor) The Zefal Isotherms are not vacuum bottles (they are only insulated), and they don't have a cover for the nipple; they also don't have a valve to allow air in, which makes it hard to drink (I drilled a tiny hole for air in the lid). I received an e-mail from a web-site visitor in Germany about three more thermal bottles, one is from the fuel bottle manufacturer Sigg, the other two are from a Taiwanese company and are marketed under the Elite name. The Thermos JMQ400 is a travel mug that seals tightly; I'm not sure if it will fit any kind of cage. The new Megaslim 2-in-1 Sportpak appears to be a good choice as well. The Thermos JMW-500 is excellent, though it is a tad slimmer than what is needed for the Profile Cage (a tighter rubber band on the cage solves the problem).
Be careful when choosing a new bicycle that it can even use a water bottle at all. Some women's frame bicycles have very little clearance between the two tubes and even though there are braze-ons for a cage, there really is not sufficient space for one. The worst possible scenario is to buy a non-coffee compatible bicycle!
---
Bottle & Mug Comparison Chart (Ratings are 0 to 5 beans)
Some of these Bottles are essentially impossible to buy, but if the manufacturer still lists them as available,
then I don't delete them. I have removed several bottles that the manufacturers have apparently discontinued.
One advantage of Thermos brand products is that you can buy replacement lids and caps
from Thermos by calling 1-800-831-9242. Generally the cost is around $5 plus $3 shipping.
This is not the case when any of the other products, as far as I know.
---
This bottle showed up at my house because my wife's co-worker was selling them for $12 each, which was a heck of a deal for a high-quality German made bottle of this quality. I think that they are being discontinued because the Alfi site has them for $8 in limited colors. Extremely complex, two-piece, leak-proof sipping valve. They used to sell replacement valves, but they cost more than $8. This bottle is a good replacement for the JSB-500.


---
Simple, inexpensive, vacuum bottles that are easy to clean. There are two versions, one with a spout and a plastic tube inside, for cold beverages only, and one with a flip top lid for hot or cold beverages. The reality is that the "cold only" is fine for hot beverages (without using the plastic tube) but the usual warning about burning your mouth, by sipping scalding hot liquids through a spout, applies. The 24 ounce version needs an adjustable cage because the diameter is much larger than that of standard water bottle. These bottles are widely sold in stores like Target, Walmart and K-Mart. I bought a Bubba 24 spout lid bottle at the K Mart in Scotts Valley, CA. The 24 ounce bottle is about $17. The 16 ounce bottle is about $10. 12 ounce also available.
The fact that these bottles do not have an overly complicated lid means that they are easy to clean.
---
Innate Kaze Tumbler and Kaze Flip
The Tumbler and the Flip may be the same bottle with different tops, but it's unclear because the capacities are slightly different. The Kaze Tumbler page has conflicting capacities since 425ml does not equal 13.5 ounces. According to the manufacturer's web site the lids are interchangeable. They say that with the flip lid the bottle is for cold beverages only, but that's the usual weaseling to prevent lawsuits from someone burning their mouth by taking a swig of extremely hot coffee or tea. Unfortunately, it does not appear to be possible to buy the Kaze Flip or the lid anywhere. When you click on "buy online" on their web site it does not take you to a place to buy online.
---
ThinkSport 750ml Vacuum Sports Bottle
Widely sold, these are one of the few sports bottles where they openly admit and encourage use with hot liquids. It even has an internal mesh filter to stop tea leaves or ice during drinking. Available in four colors. Colors cost more than plain silver. The cap screws off so while you can drink while riding it's not as convenient as the bottles with the flip lid. Use with a non-metal expandable short cage.
Thermos-Nissan Sipp and Thermos Nissan Vacuum Mug
I saw these at my local Target store on 1 April 2010. All are double wall stainless steel with vacuum insulation. $22 each. The are advertised to keep beverages hot for 5 hours and cold for 9 hours. These would be good units to use with the Bell handlebar mount cup holder (or other handlebar mount cup holders. Maybe not so great in a water bottle cage. All are 470ml (16 ounces).
Note: Thermos replacement parts (in this case lids) can be purchased by calling Thermos at 1-800-831-9242. Generally the cost is $5 plus $3 shipping.

---
Contigo AUTOSEAL®Tumbler
These are widely available. I bought some at Costco for around $10 each in a two pack. At Amazon they are $20 for one.They are mostly leak proof, and they keep the coffee hot for about two hours. The down side is that they are difficult to clean. These are good units to use with the Bell handlebar mount cup holder
---
Thermos-Nissan HS4030
There are very few bottles with sip through caps anymore. This is because of a fear that consumers will burn themselves by drinking scalding hot beverages through the nipple. But there's no other reason why you could not use a double wall, vacuum insulated, bottle for hot beverages if you're careful. Use with a non-metal expandable short cage.
---
These bottles are double wall stainless steel vacuum bottles with flip top lids and spouts that are sold by promotional products companies. The 25 ounce model is 1/4" wider in diameter than a standard water bottle and can be used in short cages that expand slightly. The SV43SS and SV42SS are smaller in diameter than a standard water bottle, and would flop around in a standard cage, but could be used in a Topeak adjustable cage.
Thermos-Nissan HS4040 & HS4080
These bottles are labeled for cold use only, but there is no reason they could not be used for hot liquids. They are both stainless-steel, double-wall, vacuum bottles with flip top lids and drinking spouts. The HS4080 is not on the Thermos-Nissan web site, and it is sold only at Target for $25. The HS4040 looks like it would fit a standard short cage, while the HS4080 may need an expandable cage. Rather pricey, but about the only easily available double-wall vacuum bottles with a spout. The lid doesn't look all that sturdy, but you can probably buy spares. This is probably the best choice in flip top bottles with a spout now that some of the others are no longer available.
---
This doubles as a commuter mug, and it fits most automobile cup holders (it fits my wife's Camry's cup holders, while the JSB-500 and JSB-700 do not fit). While the JMW-500 appears to have less insulation than the JSB-500, it actually keep liquid hotter than the JSB-500 (10 degrees hotter after two hours, 20 degrees hotter after ten hours). On eBay, this is referred to as a "Backpack" bottle. It sells for $19+$5.50 shipping on eBay (stainless steel finish), $28 from Sweet Maria's (stainless steel finish). There is usually at least one for sale on eBay. Make sure that the auction is for the JMW-500 (500ml) and not the JMW-350 (350ml). The latter may be good for kid's bikes, for kids in the car, and for school backpacks.
I found out the hard way that cleaning the top by putting it into boiling water is not a good idea. The plastic release on the cap has broken on all the ones I own. The cap still stays closes with the metal latch.
---
Thermos-Nissan FDI-1000
The FDI-1000 uses the same style cap as the JMW-500. It's larger in diameter (3.8") however not as much as you'd expect, as they've decreased the distance between the inner and outer walls. It will not fit an automotive cup holder. It includes a cup that fits over the cap. I have not tested this bottle.
Zefal Isotherm
Zefal manufactures an insulated 16 ounce plastic thermal bottle called the Isotherm. It works like a standard water bottle, so you can drink and drive; but it will keep coffee hot for only about 45 minutes. It's a good choice if you're going to finish your coffee soon after you begin your ride.
---
Jong Won JSB-500/JSB-700 500ml & 700ml Stainless Steel Sport Bottles
These Korean made unbreakable 18-8 stainless steel bottles, fits some bike bottle cages (see caveat below) and will maintain coffee at a hot temperature for many hours. Your coffee will take a while to cool off to a drinkable temperature since this is a high quality vacuum bottle, so if you want to drink it right away you should cool the coffee first with an ice-cube. You can drink it without stopping because it has a nipple like a regular water bottle. However the nipple does not close, the flip-top cap has a rubber stopper built into the lid which seals the nipple when closed.
The JSB-500 & JSB-700 have a wide mouth which makes it easy to fill. One strange thing is that they say that it is not for dairy products. I've never seen this warning on any stainless steel vacuum bottle before. I wonder if this includes a small amount of half & half or milk in coffee. The manufacturer appears to be Jung Won Co Ltd, in Korea. They also make a taller, 700ml version of this bottle, the JSB-700. A sample of the JSB-700 arrived on 8 January 2000. It's 11.875" tall so if you use this bottle you need to check the clearance on your frame first (you might need to attach a cage a little lower than the water bottle bosses on the frame allow, you can do this with one of the methods found at: http://www.nordicgroup.us/cageboss.
These bottles fit the Topeak Modula EX cage, as well as the old Profile Kage.
These bottles have a very low wholesale price from Korea (less than $4 each), but there is a 1200 piece (per model) minimum order, plus shipping charges, so I've declined to go into business selling them for the time being. After paying for shipping, I'd have to sell them for about $15, and I'm not sure if I could sell 1200 of them.
These bottles will NOT fit many automobile cup holders. It fits the ones in my Toyota 4 Runner, but doesn't fit the ones in my wife's Camry.

JSB-500: Not Available JSB-700: Not Available
I have repeatedly tried to contact the manufacturer for another price quote, without success. The web site is still up, but the company may no longer sell this product. My sister-in-law is Korean, and I may have her give them a call.
---
Polisport Thermika
Polisport in Portugal manufactures the Thermika Sports Bottle. One distributor is a company called Synergy in the U.K. "The Synergy Sports Thermal Bottle is designed to keep hot and cold drinks at the correct temperature. This is guaranteed by the construction of two layers with an insulated foam barrier. The Synergy Sports Thermal Bottle has a capacity of 500ml and will fit all standard bottle cages. The Synergy Sports Thermal Bottle is provided with a transparent plastic dirt proof cap. The inner section is completely removable for cleaning purposes."
The trade-off between the Polisport and the JSB-500 is that the JSB-500 will keep the coffee hot longer, but the Polisport is microwavable and easier to clean. If an hour is long enough for you to caffeinate properly then the Polisport is a good choice. The fact that it doesn't keep drinks as hot for as long may be a good thing as well. With the JSB-500 coffee remains too hot to drink for quite a while, with the Polisport Thermika it cools to a drinkable temperature faster.
I have one of these, sent to me by the manufacturer, but as far as I know there is no way to actually buy one.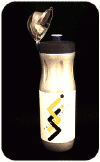 ---
Elite
Elite makes six different thermal bottles. Elite does not sell much into the U.S., so if you want some of these, and you live in the U.S., you may have to order the bottles from Europe.
---
Elite Pajaro Keratherm, Getter, Clyma Jasa
The Getter, Pajaro Keratherm, and Clyma Jasa are essentially the same shell, but with different insulating materials. The Getter uses vacuum panels, the Pajaro uses Keratherm, and the Clyma Jasa uses foam. Don't assume that you necessarily always want the longest performance, sometimes you will be better off with a bottle that doesn't keep the beverage too hot, or too cold.

Pajaro:



Getter:


Clyma Jasa


---
Elite Cioi and Cioi Keratherm

These two bottles have an aluminum shell. The Cioi Keratherm is insulated with Keratherm, and has a built in thermometer, the Cioi is probably just insulated with foam. You can order these from the Czech Republic, with the link under the picture. They do not appear to be available in the U.S..
---
Elite Cikara

Apparently this bottle is not sold in the U.S. You can order these from Germany, with the link under the picture. They do not appear to be available in the U.S.. You can see a review of this bottle at: http://www.nscl.msu.edu/~daniel/bicofa.htm.
---
Contigo Extreme


This mug fits into the Topeak Modula EX Adjustable Diameter Cage and the old-style Profile Kage., at the largest setting. The rubber area near the middle helps secure the mug in the cage, and avoids rattling. It's leak proof, at least when the seals are new. This mug is sold at many stores, including Target. Some Costco's have this mug in a two pack, one with a handle, one without a handle, for $19 (I bought them a the Mountain View Costco, but the Sunnyvale Costco a few miles away didn't have them). Costco also had them in red and blue metallic. It holds more, and is less hassle than the Thermos-Nissan JMQ-400, plus it's not tapered like many of the commuter mugs (tapered mugs don't work well in water bottle cages). Downside is no cover so it could get dirty.
---
Stanley Outdoor 16oz. Vacuum Drink Bottle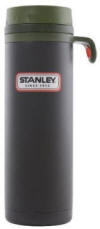 This mug fits into the Topeak Modula EX Adjustable Diameter Cage and the old-style Profile Kage. It's leak proof, at least when the seals are new. This mug is sold at many stores, including Amazon and Sports Basement. Downside is no cover so it could get dirty.
---

This bottle is widely available. It comes in several different colors to match your frame. The chrome is the only one that is vacuum insulated. I haven't tried this, but someone told me that it's very difficult to clean.
---
Sigg Thermal
The Sigg 500ml thermal alloy bottle can be seen at: http://www.sjscycles.com/store/cat17.htm. I also managed to find one source for it in the U.S. at http://www.yuccadune.com/product429.html. It is quite expensive at $37 + $4.50 shipping (in the U.S.).
"A lightweight, double walled, unbreakable, and extremely durable insulated drinks bottle. It will keep drinks hot or cold for 4 to 5 hours. The bottles have a hygienic inner coating, resistant to fruit acids, alcohol and isotonic drinks. Distinctively designed in silver gray with a leak proof cap the bottles will fit the 'Snap and Lock' cycle bottle holder."
I don't like the fact that there is no nipple cover, and the fact that it is not a vacuum bottle, but at least it really is intended for a water bottle cage. Not sure if this bottle is still available from Sigg. Sigg has a horrible web site, and I could not find it on their site anymore. I have not tested this bottle.

---
Megasport MSB047 Vacuum Bottle
This bottle appeared in the Holiday 2001 Campmor catalog and appears to be a good replacement for the JSB-500 even though it holds 30ml less. The description reads: "16oz./0.47L vacuum insulated flask. Unbreakable brushed stainless steel bottle and cup. The original one from Campmor was the version that included a regular stopper and cup, but this is not available any more and the current seller has the model with only the sip-through lid. Keeps drinks cool for 24 hours and warm for 12 hours. Adjustable, nylon strap. Fits in bicycle bottle holder. Wt. 11.9 oz. as a sport bottle with strap, 12.7oz. with regular stopper and cup." The statement about not drinking hot liquids through the nipple is no doubt because they worry about someone taking a gulp of near- boiling coffee, there is nothing inherent that stops you from responsibly sipping hot coffee from it.
No longer available from Campmor, but you can find it at: http://www.avantgardegadgets.com/msb047-s-blk.html
This may be the only bottle still available with a sip-through covered spout. On the plus side, the cover is probably a lot more reliable than the one on the JSB-500/700 and the ST-630, which are pretty fragile. I have not tested this bottle.

---
Cages
Most bottle cages are designed only for standard bicycle water bottles. These are not always suitable for the type of bottles used for carrying coffee due not only to size but due to materials. A metal cage will scratch steel or aluminum bottles, so you'll want to look for a nylon or carbon-fiber cage if you're using a metal bottle. The carbon-fiber cages are pricey, but they tend to work by gripping the bottle, without depending on the upper protrusion to hold it in.
If the coffee bottle doesn't have the indentation for the the top protrusion that is present in most cages, and most don't, the fit will not be good. The new Topeak Modula EX, adjustable cage, is probably the best choice, and it's a good deal at only $5.
---
Cage Summary
---
Cage Descriptions
Topeak Modula EX Adjustable Diameter Cage
This looks like the ideal cage for stainless steel bottles that are not the exact same diameter as a standard bicycle water bottle. A plastic knob on the bottom allows adjustment of the diameter (you could replace the knob with a fender washer and a cap nut, if desired). I tried it on a Thermos-Nissan JMW-500, which is slightly smaller than a standard bicycle water bottle, and a JSB-700, which is slightly larger than a standard bicycle water bottle, and it worked great. It also works well for when you want to carry some other type or size of bottle, i.e., a bottle of spring water or mineral water. The other good thing about this cage is design of the upper tab, which uses three ridges that press against the body of the bottle, rather than the tab that goes over the top of smaller plastic bottles (or into the indent of larger plastic bottles). A very good deal, at only $5. You may even want to consider mounting some of these in your vehicle, for your kids to use for drinks.
Do not get the aluminum version of this bottle, called the Modula, without the EX suffix.
---
Zefal Pulse Cage
This cage is good for a bottle like the JSB-500/JSB-700, but not for smaller diameter bottles such as the JMW-500. Only $8 at Wal-Mart.
---
Profile Bottle Kage
This cage works well with the JSB-500 and would work with other bottles that are a bit smaller in diameter than a standard plastic water bottle. The black you see in the picture it a rubber ring that holds the flexible, split plastic front, tightly around the bottle. Just be sure you don't crash when you give the bottle the tug it needs to be removed from the cage. Go to Bike Nashbar and do a search on "kage" . The old version may be being closed out, as only weird colors are still available. The replacement for this cage would probably also work, but it has a protrusion to secure notched water bottles, which may be a problem with some bottles, but it could always be removed.
The good thing about the Profile Kage, at least the old one, is the ability to use slightly oversized or undersized vacuum bottles. Check Cambria Bike for the old style. Their web site doesn't allow color selection, but you could probably call them to see what they have left. Also check PricePoint for black ones.
You can also get the old style as part of the Profile Designs Aqua Rack.
---
Tacx Tao
This cage is a combination of aluminum and plastic or rubber. Supposedly the plastic or rubber prevents the bottle from being scratched. I have not tried this cage yet, but it looks promising. Around $13. There is a carbon-fiber version that sells for around $80. Unlike the Profile Kages, there is no way to use slightly oversized or undersized bottles, since it is not a split design. The Tacx web site sucks, so I can't put a link up to the Tao that works.
---
Zipp Carbon 2004
I haven't tried this one either, but it looks promising. No top protrusion, and the carbon-fiber should be flexible enough for a slightly oversized bottle, and it may be tight enough for slightly undersized bottle. A bit pricey at around $37. The 2005 version doesn't look like it will be good.
---
Forza Carbon Cage
I haven't tried this one either, but it looks promising. No top protrusion, and the carbon-fiber should be flexible enough for a slightly oversized bottle, and it may be tight enough for slightly undersized bottle. Around $13.
---
Look Carbon Cage
Getting pricey now, at $50.
---
Bike Buddy Adjustable Cage
If you want to carry a steel vacuum bottle that isn't designed for a standard water bottle cage then check out the Bike Buddy, an adjustable cage made in the U.K. They will ship world-wide. My evaluation unit arrived on June 26, 2000. It's made of stainless steel. I got the removable MK3 model where the clamps and the mount stay on the bottle and the entire assembly slides on to special pegs that are threaded to fit into the water-bottle cage bosses on the frame. Unless your bike doesn't have water-bottle cage bosses then you definitely should get the MK3 as it is very convenient to not have to remove the clamps from the bottle in order to drink. Once the bottle and clamps are assembled it's very sturdy. You can carry up to a 2 liter bottle. You can get extra pegs for your other bicycles.
Don't just think coffee, you could get a wide mouth vacuum bottle and carry hot food as well. Just think how jealous everyone else on the club ride will be when you whip out your Pasta Puttanesca and your French roast coffee, while they're gnawing on gritty Power Bars and drinking lukewarm water. The Bike Buddy also will hold a wine bottle.
---
Twofish Unlimited 'The Quick Cage'
This is a good plastic bottle cage for bikes that can't use standard bottles either because they have no braze-ons for water bottle cages, or because the frame tubes can't use standard clamps. From the Twofish Unlimited Web Site: 'Goes on any bike instantly, anywhere room is available on the frame or seat post. Great for cruiser bikes, BMX bikes, kids' bikes, and the serious commuter. The most convenient and cost-effective way to put a water bottle cage on a bike without braze-on lugs. Includes a 23 ounce water bottle with the Twofish insignia.' Great for the Brompton handle bar tube. Go to Bike Nashbar and do a search on "twofish" or better yet order it from Gaerlan Custom Cycles .
---
Bell 'Expand-a-Cage'
This adjustable cage is similar in capability to the Bike Buddy. Rather than two metal bands, it uses a single rubber strap with holes in four locations (similar to a belt). The maximum diameter of a bottle appears to be around 4", which is smaller than the Bike Buddy (there appears to be enough space on the strap to punch a fifth hole, which could increase the capacity slightly).
Note that you really can't remove the bottle while riding, due to the friction of the rubber strap around the bottle. But for carrying a thermos of coffee to work, for later consumption, or a bottle of wine, it would be fine. For wine, note that there are now many higher quality wines that use screw tops; screw tops aren't just for jug wine. So for drinking wine while riding, select a good Merlot or Cabernet with a screw top. If you're a Mac user, then choose a white wine. Since this cage has a slim profile when there is no bottle inserted, it may be good for some folding bicycles that have problems folding when a larger profile cage is used.
Besides Amazon, I have seen them at Sports Authority (around $7), and Wal-Mart (around $4). The Bell SKU is 108210. The UPC code is 3501186150 (but if you try a Google Search on 3501186150 you'll be right back on this web site!).
Bell has been doing a great deal to promote practical cycling with a lot of new products aimed directly at commuters and casual cyclists. It's a great company that wants to expand bicycling to the masses.
---
Topeak X-15 Adapter
Usable with any standard mount cage, this adapter allows you to rotate the cage to gain access to the bottle. This may be necessary on small framed bicycles, especially when using a tall bottle. A very good deal, at only $5.
---
Creating Water Bottle Cage Bosses on Bicycles without Them
Sure you could cobble something together using funky hose clamps, but it looks tacky and unprofessional. See many methods to do the job right at: http://www.nordicgroup.us/cageboss .
---
Commuter Mug and Handlebar Mount Beverage Holder
Don't drink and drive...You might hit a bump and spill your drink
A commuter coffee mug and a handlebar beverage holder is another away to carry coffee. These beverage holders are very popular in Florida, but you don't see them too much in California where I live.
---
Bell Cruisin joe to go cup holder
Sold at Target for $5.99. Not available on-line. Very nice aluminum cup and bottle holder. Clamp is also solid metal, unlike many of these devices that have plastic or flexible steel clamps. These sell out very fast at Target. I've bought twelve so far. In the right two photos below I show it installed on my commute bike. By not using the rubber shim I installed it over the handlebar tape. I have not seen these at any other store, including other stores that sell Bell bicycle accessories (Wal-Mart, RiteAid), but one review I read said that they had them at Toys R Us (not at the one I checked) for $7.99. This is a very good deal compared to the ridiculous prices of less capable cup holders. Requires a tapered cup, you can't use it with a straight thermos. Bell has been doing a great deal to promote practical cycling with a lot of new products aimed directly at commuters and casual cyclists. It's a great company that wants to expand bicycling to the masses.

---
Motorcycle Beverage Holder


You can buy them from JC Whitney for $7. You may need to glue a piece of foam rubber into the beverage holder to prevent rattling and to hold the cup more firmly. If you hit a bump or pothole the cup may eject and hit the ground then the lid will pop off and splash hot coffee all over you (don't ask how I know this!). There is a good selection of cups, steel and plastic, at Target that may work, but be sure that whatever you get has a top that seals, not just a hole in the lid. The Aladdin Traveler and Aladdin Traveler steel, are available with locking lids (called 'Closer' lid). See them at http://www.logoclick.com/BTM16.htm (not for sale here, look at places like Target, K-Mart, or auto parts stores). They are also sold with slider lids (difficult to clean) and drink-thru lids (coffee splashes out on bumps). This holder may also be a good match with a Nissan JMQ-400. Also sold at Cambria Bicycle Outfitter.

---
RAM-B-132R


The RAM-B-132R SELF LEVELING DRINK CUP HOLDER may be the best solution for bicycles (as well as airplanes, boats, and motorcycles). It is available in stainless steel and zinc-coated. A drink holder consists of the following components:

RAM-B-132BU Self Leveling Drink Cup Holder

RAM-B-231U RAM Base w/ Stainless Steel U-Bolt for 3/4"- 1" Diameter Bar

RAM-B-201U-A 1-3/4 inch Double Socket Arm or RAM-B-201U3 Inch RAM Double Socket Arm

The total system will cost around $40.

---
Drink Holder, Handlebar Mount
No brand name, but it looks the same as the Morning Rush holder from Soma Fabrications. $20. I have not tested this device. Requires a tapered cup, you can't use it with a straight thermos. Not the most durable clamping system. Requires a tapered cup.

---
Morning Rush Coffee Mug & Holder from Soma Fabrications
This device looks pretty cool. It appears to be the same as the device above, but they include a suitable vacuum mug for the extra $20.

From the Soma Fabrications web site: "Take away the spills and thrills of riding with coffee. Includes: Stainless steel mug holder ring mounts to mountain bike or road bars. Stainless steel commuter mug holds up to 16 oz. of coffee or tea. Slide button lid means you can open the cap and take a swig with one hand. Mount is from CatEye, so in the evening you can replace it with a Cat Eye HL-500II headlight if you so desire."

Classier than the handlebar-mount plastic can holders, and probably useable with any cup that tapers. Some of you may remember the Ibis Hot Unit, another coffee system from a frame manufacturer (alas, Ibis is out of business). Not the most durable clamping system.

The cost is $40. I have not tested this device. I requested a sample from Soma Fabrications, and hopefully they will send me one. I can't afford to buy every device on this site, and have been fortunate to receive most of the items free from the manufacturer or from a retailer.

---
French Press Mugs
These are combination mugs and French presses. The perfect device for on-bike brewing. There are other models out there, but they are usually bigger, and not suitable for carrying on a bicycle.
---
Bodum/Tazo Plastic Travel Press


---
Bodum Stainless Steel Travel Press
From the Starbucks Web Site a while back (no longer sold by Starbucks.com though): "We've combined the boldness of coffee press brewing with the mobility of the stainless steel tumbler. Our new Travel Press™ keeps the coffee warm and in its place. It's ergonomically savvy with a comfortable gripping-band and Santoprene® lid. For convenience, the lid and the press mechanism are one entity so you can plunge-and-go. An ideal gift for a busy person who loves the richness of coffee brewed in the coffee press but only wants one cup for the road (20 fl oz/0.59 L). It fits into most car coffee-cup holders. Dishwasher safe. Made in Taiwan." $30 from Amazon.com. This looks like it would fit one of the short cages.


---
Porter Double Shot Commuter French Press Stainless Steel- Stainless Finish
This mug sells for $25. It may not be as suitable for carrying on the bicycle, since the narrow base is too short to be secured into a short cage. Also available in black or pink finish.


---
Stainless Steel French Press—Non-Mug
---
Nissan NCI1000 Stainless Steel French Press
This is a very popular stainless steel French press. it's a little large in diameter, but you could use the Bell Expand-A-Cage to hold it. $30 from Amazon.com. Not suitable for drinking straight from the press. You can also bid on this on eBay from the same seller as the JMW-500, but the "Buy It Now" price is too high, considering that Amazon includes free shipping.


---
I received some e-mails noting that for fresh coffee it should be brewed on the bicycle while riding, not stored in a vacuum flask. Probably the best method for on-bike brewing would be to fill a vacuum bottle with boiling water, then use a stainless steel French Press or one of the French Press mugs; but even in a vacuum bottle, the water wouldn't be hot enough for very long. You can carry a small camping stove with you instead. Or if you have an electrical outlet bring an immersion heater along with a Melitta cone filter, or a Zelco Brisk Brew.
The Brewing and Grinding Section has been moved to a separate page because it grew so large.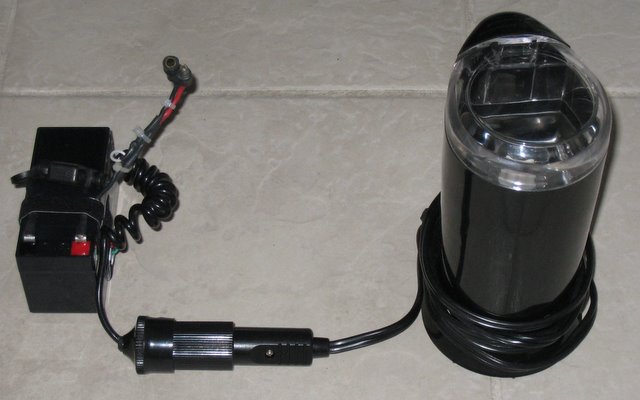 12 Volt blade grinder hooked to my lighting system battery. Cigarette lighter jack can also be used for a cell phone charger. I'm not sure if this product is still available.
Click for Brewing and Grinding Page
---
Coffee and Winter Activities
Many of these methods for carrying coffee are also well-suited for winter activities such as X-C skiing and snow-shoeing. For day trips I would recommend carrying a lightweight stove and and brewing up some fresh, hot, nourishing coffee at lunch time. I used to lead a number of X-C ski trips each year and the few times that someone brought a stove along on a day trip it was greatly appreciated. Coffee has been proven to increase the performance of cross-country skiers, see: http://www.hhp.ufl.edu/keepingfit/ARTICLE/caff.HTM.

Skiers and snowshoers should drink plenty of hot nourishing coffee when engaging in winter recreation
---
Conclusion
Bicycling and coffee drinking can be combined in a number of ways. Being away from your home or car does not mean that you need to give up this healthy, nourishing, herbal beverage.
---
About the Author
The author is the one of Earth's leading authorities on coffee, bicycle lighting, and folding bicycles. An electrical engineer by trade, he enjoys cycling and drinking coffee. He lives in Silicon Valley. He travels frequently to Taiwan where he enjoys buying folding bicycles and drinking coffee. He has bicycled and drank coffee all over the world, including Canada, Germany, Korea, Russia, Thailand, Japan, Taiwan, and China. See a list of his bicycle related web sites at http://www.nordicgroup.us/hosted.htm.
---
Some of My Other Web Sites that you Might Be Interested In

icycle Lighting: Riding at Night and Looking for High Quality Bicycle Lighting? Visit
Luggage Racks: Earth's Premier Site for Unbiased Information about Bicycle Luggage Racks

These are all non-commercial sites
---
Help Support My Web Site By Entering the following Merchants Via My Site
---
---
Pawel Danielewicz has done some temperature testing on various bottles. See: http://www.nscl.msu.edu/~daniel/bicofa.htm. He uses the Zefal S cage on a JSB-500, with a slight modification.